---
Book I'm Reading
Bird has produced a thorough work here; the audiobook edition was gripping. I am now more informed about Oppenheimer the man: what drove him (according to his writings), what he produced, and how he thought.
Unfortunately, one of the biggest lessons learned here was how a government bent on proving what it believed to be true (that "Oppy" was a Communist at best and a Soviet spy at worst) can consume a man and all aspects of his life.
I appreciated considering what it must've felt like to have been responsible for producing a weapon capable of such humanity-altering potential to kill. It is truly difficult to imagine how heavy that weight must've been. It is a burden I'm glad I will never have to carry.
---
Podcast I'm Listening To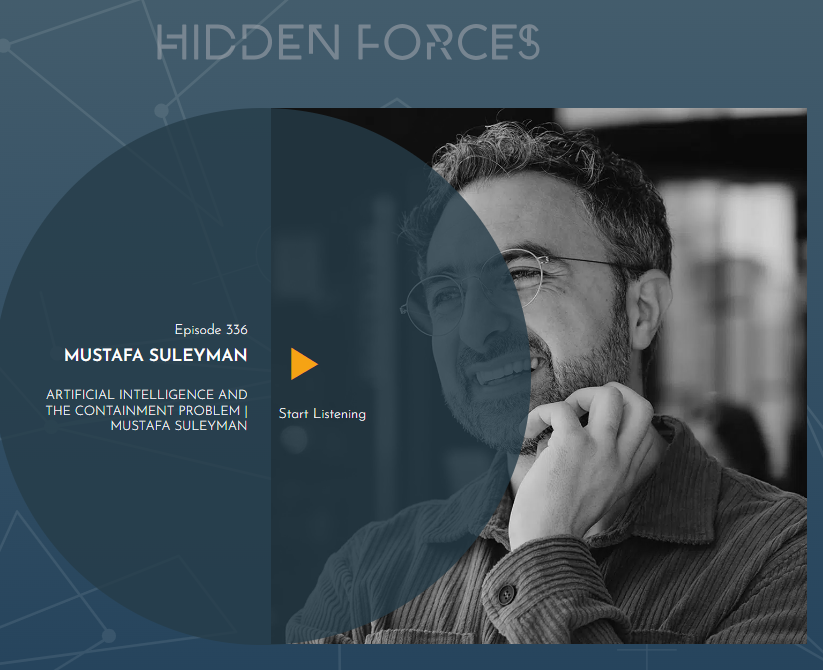 Another excellent conversation with Demetri Kofinas and Google DeepMind co-founder Mustafa Suleyman. They discuss the AI containment problem and the dilemma Suleyman outlines in his book, "The Coming Wave: Technology, Power, and the Twenty-first Century's Greatest Dilemma."
Check out timestamp 15:00 and following for a great explanation of Artificial Intelligence.
---
Tweets I'm Reading
Friends and family asking you about Bitcoin?

Start them off with this Bitcoin 101 course from the Swan Bitcoin Canon, featuring @aantonop @stephanlivera @naval @tferriss @NickSzabo4 @skwp @dergigi @LynAldenContact @real_vijay https://t.co/V1F117c0UQ

— Cory Klippsten | Swan.com 🦢 #Bitcoin (@coryklippsten) October 25, 2023
---
Sarcasm has a unique property, if it doesn't have an intelligent audience, it will make you look like a stupid.

— EngiNerd. (@mainbhiengineer) May 29, 2014
---
The software engineering behind the X "algorithm" is epic. It has to distill 500 million daily tweets down to a personalized handful it shows each person. This algorithm runs ~57,000 times a second 🤯 … and each execution takes 220 seconds CPU time, but runs in 1.5 seconds real…

— Lex Fridman (@lexfridman) October 28, 2023
---
Please take a second to watch this…

Leroy Walker's son Joey tried to stop the mass shooter in Maine but he was killed.

Leroy shares why he can't hate his son's murderer. pic.twitter.com/wlURMdQxpY

— Yashar Ali 🐘 (@yashar) October 27, 2023
---
"If we're really serious about interpreting the Bible in its own cultural and religious context, we need to remove the modern theological filters we use to read it. That may sound scary, but we don't need to be protected from the Bible."

🌐 Go deeper: https://t.co/KIAfnMCuDk 🌐 pic.twitter.com/zH9ZEJJaFf

— Michael S. Heiser (@DRMSHPhD) October 29, 2023
---
If you have feedback for me, if something resonates and you want to see more of it, reply in the comments below. You can also tweet at me on Twitter @the_cody_hall.
I look forward to hearing from you!
If you're not yet subscribed you can do so here: