---
"Should I, a professed Christian, called to be a saint, a child of God, a member of Christ, a temple of the Holy Ghost, should I be covetous, sensual, proud, or envious? Should I yield to impatience, discontent, or anger? Should I be slothful, unbelieving, or unmerciful? What effects will such conduct have upon others? All that God has done for us, or by us, or given to us, should lead us to watchfulness, self-denial, and diligence."

Matthew Henry
---
Article I'm Reading
---
Podcast I'm Listening To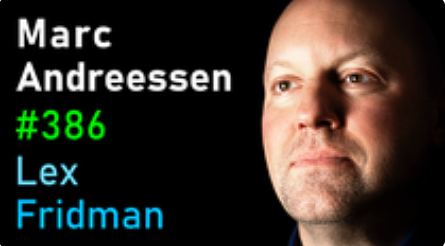 Another phenomenal episode from Lex Fridman. This time he's interviewing one of the greatest venture capitalists of all time: Marc Andreessen. Marc is one of the founders of Andreessen Horowitz. He co-developed one of the first web browsers (Mosiac). One of his recent articles on AI drew much attention.
---
Video I'm Watching
---
---
If you have feedback for me, if something resonates and you want to see more of it, reply in the comments below. You can also tweet at me on Twitter @the_cody_hall.
I look forward to hearing from you!
If you're not yet subscribed you can do so here: